Natl. Geo. Trails Illustrated Maps UTM Slots for 1:40,680

Note:
Product edges and interior cutouts are shown with a thin red line. Neither the red lines, colored background, nor map image are printed on the actual tool. (
more info
)
Product Description
The National Geographic Trails Illustrated Series of maps is a large map series know for their excellent trail detail. The individual map focus on National Parks, National Forests, and BLM and other public lands.

The series uses many different map scales. Double check the scale of your map, to be sure you are ordering a suitable tool. At this time MapTools does not have tools for every scale that the series uses.

A band of white ink around the edge of the tool. This makes reading the compass rose and grid numbers easier and also keeps the tool from "disappearing" when you place it on the map.

Printed on plastic with a protective coating.
Add to Shopping Cart
| | | | |
| --- | --- | --- | --- |
| Item description | Quantity | Price | Quantity |
Specifications
Scales:
1:24,000 x 1km
1:40,680 x 1km
Dimensions:
Height:
3.000 in. (76mm)
Width:
3.000 in. (76mm)
Thickness:
0.030 in. (1mm)
Made in United States.
How to use products like this...
Using a slot style tool to plot/measure a 10m MGRS position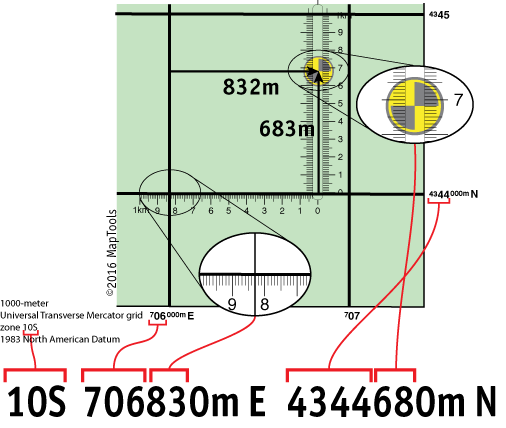 Here is a tutorial on using this type of tool.
Here is information on using the Universal Transverse Mercator coordinates (UTM).
Here is information on using the United States National Grid (USNG).
Here is information on using the Military Grid Reference System (MGRS).