Other Useful Tools
Tools for measuring Area, Slope, Length, and for Unit Conversion
Map Gridding Tools
Map Bags
Map Overlays and Marking
Magnifiers
Map Wheel
Over the years I've found a few products that I use over and over again as I work with maps, GPS receivers and geographic coordinates. I think you will find them just as useful as I do.
---
Tools for measuring Area, Slope, Length, and for Unit Conversion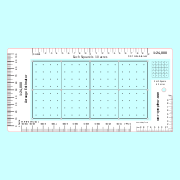 ---
Map Gridding Tools
If you print your maps from a digital source you can probably get the grid lines printed as well. But if you are still using traditional paper sheet maps, you may need to draw the grid lined yourself. Frequently maps come with coordinate marking on the edges, but no grid on the map. These cork backed stainless steel rulers, and the archival quality technical pen are ideal for drawing grid lines. The 24 inch ruler is long enough to grid USGS 1:24,000 quadrangle maps. If you need to add grids to 1:100,000 scale maps, Forest Service maps, or other larger sheets, You'll want the 36 inch version.

---
Map Bags
Nowadays most of the maps I use, I print myself from a digital mapping program or online resource. Since I can print another one for my next outing, I don't coddle them like I did my USGS quad sheets. But I still need to keep them dry.
You can spend a lot of money on a fancy map pouch, but that's not my style. I put my maps into simple clear polyethylene reclosable zip top bags. I use two sizes.
9 x 12" 4 Mil bags are a good fit for an 8.5"x11" letter sized sheet of paper.
13 x 18" 4 Mil bags are a good fit for larger map sheets folded into quarters or 11"x17" paper.
Map Bag - Big


To protect maps printed on 11"x17" or A3 paper or larger sheets with a fold or two.




Map Bag - Small


To protect maps printed on letter or A4 paper



---
Map Overlays and Marking
In a tactical field operation, be it military, law enforcement, or search and rescue oriented, it is common to do planning and situation status on a map covered with a clear overlay. The set up I use is based on a sheet of 1/4" hardboard for my local building supply outfit. They typically sell it in 4'x8, 4'x4' 4'x2' pieces, but they'll even cut it to the size you want. I use binder clips to attach a sheet of Grafix Clear Dura-Lar film to the board. My map goes between the board and the clear overlay. I keep everything secure with a combo of binder clips at the edges and blue tape elsewhere. For multi day operations, I use additional clear overlay sheets, one for each operational period.
My favorite pens for marking on the overlay sheets are, Staedtler Lumocolor Fine Point marking pens. I usually use water based pens for planning and operational situation status as they are easy to erase when you change your plans or your teams move around. For for debriefing records, I switch to the permanent pens. I don't want my operational history to be accidentally erased. The permanent pens can be erased. I make minor changes with a Mars plastic eraser. For bigger changes or to erase an entire sheet, I turn to an alcohol soaked rag.
When I'm teaching navigation, I use laminated maps and have the students use Vis-A-Vis overhead transparency pens. These low cost pens can be erased with a damp paper towel. And unlike my Lumocolor pens, I'm not so distraught when a pen or two disappears.
Finally for you old school wall map folks, we carry the round headed colored map tacks and pins with colored flags.
| | |
| --- | --- |
| Map Flags, pkg of 15, assorted colors | |
| Map Tacks, pkg of 50, assorted colors | |
| Mars Plastic Eraser | |
| Lumocolor Pens, Permanent, Set of 4 | |
| Lumocolor Pens, Permanent, Set of 8 | |
| Lumocolor Pens, Non-Permanent, Set of 4 | |
| Vis-A-Vis Water Based Pens 5 Pen Set | |
---
Magnifiers
I've reached the age where it's starting to be difficult to read the elevations on the index contour lines. We have two sizes of flat fresnel lens magnifiers. The pocket sized version is the same sizes as our other pocket sized tools. The larger one is sized to match our larger tools.
When I'm inside, warm and dry, with a map spread out on the table, I like to use a Magnabrite acrylic dome magnifier.
Large Magnifier


A tool for those of us for whom the contour lines have begun to blur together.




Pocket Sized Magnifier


A tool for those of us for whom the contour lines have begun to blur together.



Measuring Distance
When you have a lot of measuring to do, turn to an electronic Map Wheel
I've been in a few planning sessions where I need to measure a bunch of trail and road distances. The Scalex MapWheel makes this an easy task. Set it to the map scale, zero it, and roll it along the road or trail of interest. The distance reads directly on the display in either miles or kilometers.
This tool is also a win when you have a map at a really odd scale. You can enter any desired scale and the wheel will happily measure distance for you. I've even used it in a pinch to measure UTM coordinates on a weird scale map.