UTM Slots for 1:31,680 1 inch = 1/2 mile
Philmont Scout Ranch, McKenzie Boundary Waters maps and Halfmile's PCT maps
Note:
Product edges and interior cutouts are shown with a thin red line. Neither the red lines, colored background, nor map image are printed on the actual tool. (
more info
)
Product Description
The 1:31,680 scale represents a distance equivalence of 1 inch = 1/2 mile. When I created this tool, I had the McKenzie Boundary Waters maps in mind. Since then I've discovered that Halfmile's pdf maps of the Pacific Crest Trail also use this scale, have a 1km UTM grid on them, and are a great match with this tool.
The Philmont Scout Ranch's sectional maps are also a good match with this tool.
McKenzie Maps of:
The Boundary Water Canoe Area Wilderness of Minnesota, USA
The Quetico Provincial Park of Ontario-Canada
Isle Royale National Park
Voyageurs National Park
Superior Hiking Trail
Superior National Forest
The North Shore of Lake Superior
The Apostle Islands on the South Shore and the Duluth/Superior Harbor
Add to Shopping Cart
| | | | |
| --- | --- | --- | --- |
| Item description | Quantity | Price | Quantity |
Specifications
Scales:
1:24,000 x 1km
1:31,680 x 1km
Dimensions:
Height:
3.000 in. (76mm)
Width:
3.000 in. (76mm)
Thickness:
0.030 in. (1mm)
Made in United States.
How to use products like this...
Using a slot style tool to plot/measure a 10m MGRS position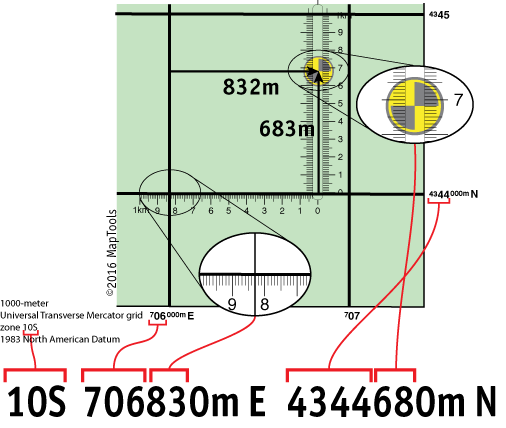 Here is a tutorial on using this type of tool.
Here is information on using the Universal Transverse Mercator coordinates (UTM).
Here is information on using the United States National Grid (USNG).
Here is information on using the Military Grid Reference System (MGRS).