Scalex MapWheel™
Electronic distance measurement for any scale map
Measure maps the fast, accurate way with the Scalex MapWheel™. Here is the perfect tool specifically for taking scaled measurements from maps. Just select the built-in scale factor to match the map and roll the MapWheel. The measurement is displayed instantly.
SPECIFICATIONS:
Accuracy: 0.25%
Batteries: 2 x AAA (included)
Rugged roller wheel for accurate measurement
Audible beeper indicates wheel motion
Easy-to-read display shows length, count and scale factor simultaneously
COUNT and ADD button (far side)
19 built-in user scale factors including all common map scales
Measures in miles, kilometers and nautical miles
Counter and adder buttons on probe tip let you count stops made or add fixed destination lengths as you measure
Calculate auto-scale factor from reduced, enlarged or odd-scale maps
Create, store and retrieve user scale factors
Clear, audible tone indicates wheel movement
Easy-to-read liquid crystal display shows length, count and scale factor simultaneously
Automatic shut-off assures long battery life
Low battery indicator
One year limited warranty
Optional protective case available. If you're going to carry the map wheel into the field, you probably want the case.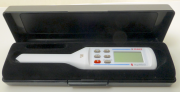 MapTools does not sell the Map Wheel or it's case directly anymore. They are available from Amazon. MapTools may receive a small commission when you use this link to order from Amazon. It will not impact the price you pay on Amazon.